Home
»
Plan
»
Going to College
Going to College
Going to college definitely has its upsides: new friends, football games, no parents, no curfew, parties, having your own space and, oh yeah, learning a thing or two. But before you start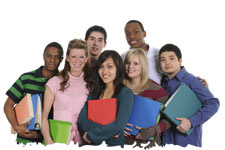 picturing college life, you need to plan on the best way to get there financially.
No matter where you go, college is expensive. And it's not just tuition, it's room and board plus text books, a laptop and other school supplies as well. Hopefully, your family has been putting away money for your education. Even if they have, it may only make a small dent in the total expenses.
The average public four-year college education costs just over $7,000 per year for 2009-2010, that's up 6.5% from the year before. For a four-year private school, that price increases to more than $26,000 per year, up 4.4%.
The good news? There is more than $168 billion in financial aid available. The secret is to get a game plan together early. That's where we can help. Discover your options in our Financial Aid section.